The Pacific Northwest is home to several species of bears, including the American black bear, grizzly bear, and the Kermode bear (also known as the spirit bear or ghost bear). These bears play an important role in the ecosystem and have been a cultural and spiritual symbol for many Indigenous peoples of the Pacific Northwest for centuries.
The two species of Bears we see often on our Whale Watching and Wildlife Tours in Campbell River, are Black Bears and Grizzly Bears. When the tide is just right, we often see them foraging on the beach, munching on sedge grass, muscles, barnacles and whatever else they can sink their teeth into! 
Black Bears
Black bears are omnivores, which means they eat both plants and animals. The majority of their diet consists of plants such as roots, berries, nuts, and fruits. During the summer and fall months, they consume large quantities of berries like blueberries, blackberries, raspberries, and huckleberries. They also eat nuts, such as acorns, hazelnuts, and beechnuts. In addition to vegetation, black bears eat insects, fish, small mammals, birds, and carrion, particularly during the spring and early summer. Black bears have an excellent sense of smell and are able to locate food from a distance. They are intelligent and adaptable creatures, capable of surviving in a variety of different environments.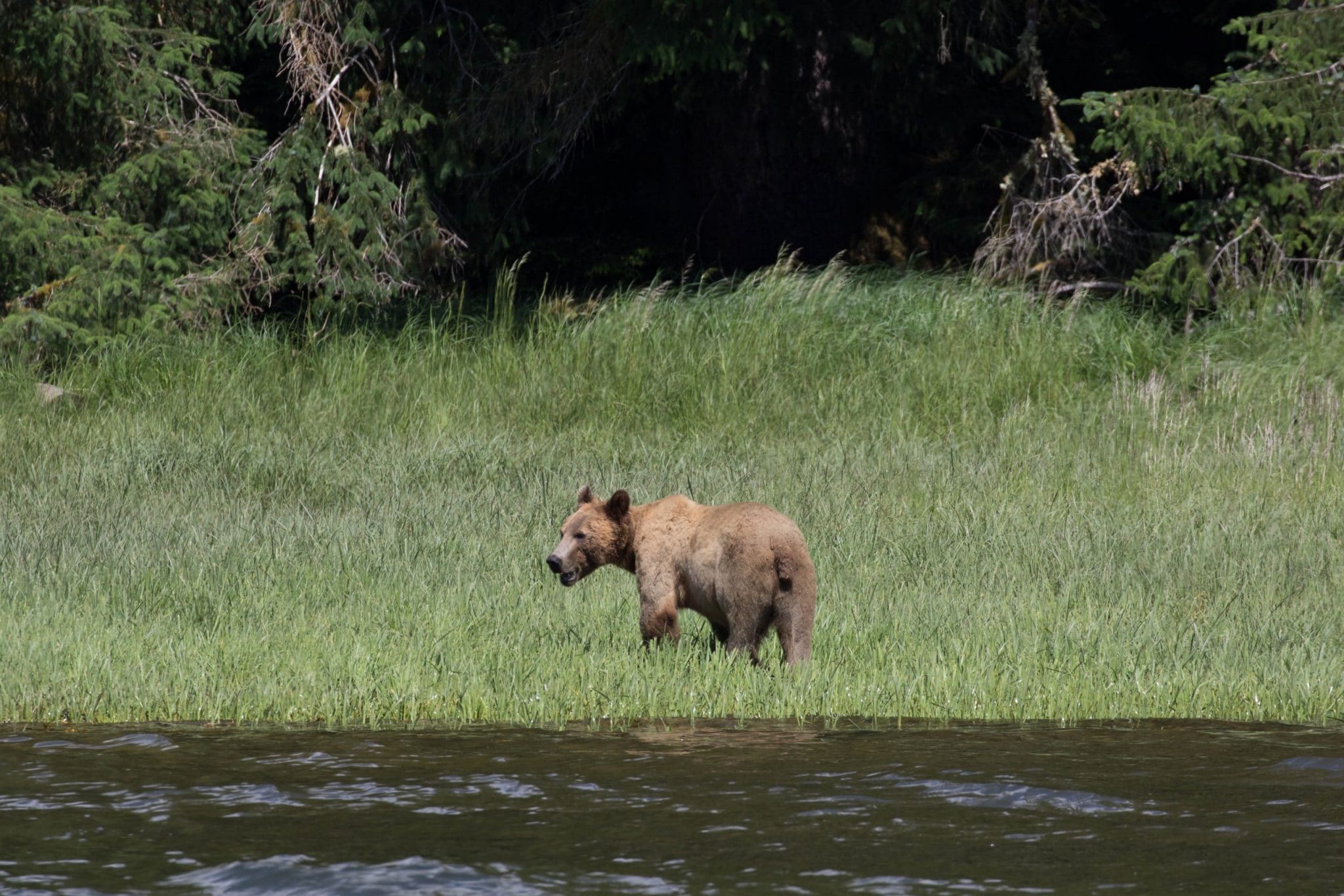 Grizzly Bears
During spring and summer, grizzly bears primarily eat grasses, roots, berries, and insects. They also eat fish from rivers and lakes, particularly during the salmon spawning season. In the fall, they focus on gathering food in preparation for winter hibernation, which includes consuming nuts, fruits, and the carcasses of animals such as moose and elk. Grizzly bears are opportunistic hunters, and they will occasionally kill and eat small mammals, birds, and even other large animals like caribou. Overall, grizzly bears have an adaptable diet that allows them to survive in a range of different environments, from coastal areas to mountain regions.